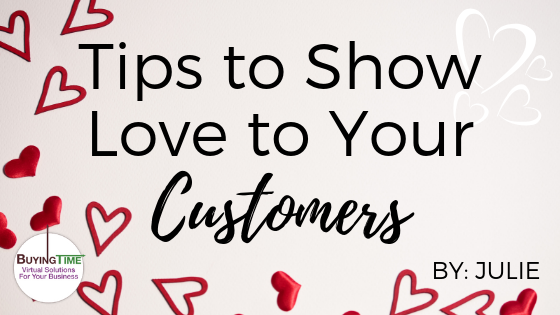 It's time to give your people some LOVE back…
Since the month of February celebrates Valentine's Day I thought I would share how you can love and appreciate your clients with some fresh ideas moving forward.
A few easy rules to follow daily:
Treat your fellow employees the way you want the customer treated – maybe even better.
Quick responses – help your customer now, not later.
Raise the bar and your standards – look for ways to stand out with your customers.
Basics – Always say please and thank you. Being polite can go a long way.
Treat every day like it is customer service day.
Last impressions are just as important as first.
The best time to thank your special VIP clients or customers is totally up to you. The idea is just to get you thinking that these extra special peeps are worth putting in some extra effort for. Here are just a few ideas you could put in to action moving forward.
CARE PACKAGES:
If you're a product based business this could be as easy as tossing in some items from your shop and creating a themed gift basket of sorts. If you're a service based business consider reaching out to shops you love to see if you can get special pricing on a bulk order. Either way you should really consider the person in mind and make the package super personal. You always want your clients and customers thinking you know them inside and out!
REFERRAL GIFTS:
Do you have a few clients or customers that always seem to be recognizing, praising and referring you? Do you offer a reward system? You could offer small amount store gift cards for every 3 referrals or offer them a percentage off an order with you. You want them to know you appreciate their referrals and that it really helps your business grow!
FIRST DIBS:
This is one of our favorite things to do. We have some pretty amazing clients and connections that we've made and we love their opinion the most. Next time you're about to launch a new product or service consider sending it to your VIP list first. You can ask for feedback or a social media shout out in exchange. Always let them know that you want them to know about it first because they're incredibly valuable to you and your business.
SECRET SURPRISES
I know a lot of business that do this! Consider tossing in a low price secret surprise to large orders. For example, I knew a printer who would add in 24 free notes cards when her clients would purchase a large package from her. It's a super inexpensive way for you to give them one more thing you know they'll love. Even though the freebie is meant as a totally extra thing you are giving it often times leads to your customer wanting to know how they can purchase more of what you sent them.
LET THEM KNOW YOU'RE THINKING OF THEM
This is one of those touches that I find super considerate and not one that I come across often. Usually when you're a small business owner you get to know your consumers really well. You hear about their family life, their job, their hobbies and dislikes. Sometimes your clients go through some pretty tough stuff or their often celebrating huge personal milestones. I love to highlight these and let them know I am thinking of them always. You can communicate this in a handwritten note, a cute greeting card or a text (if appropriate).
Remember, the goal here is to go above and beyond for clients and customers that go above and beyond for you.