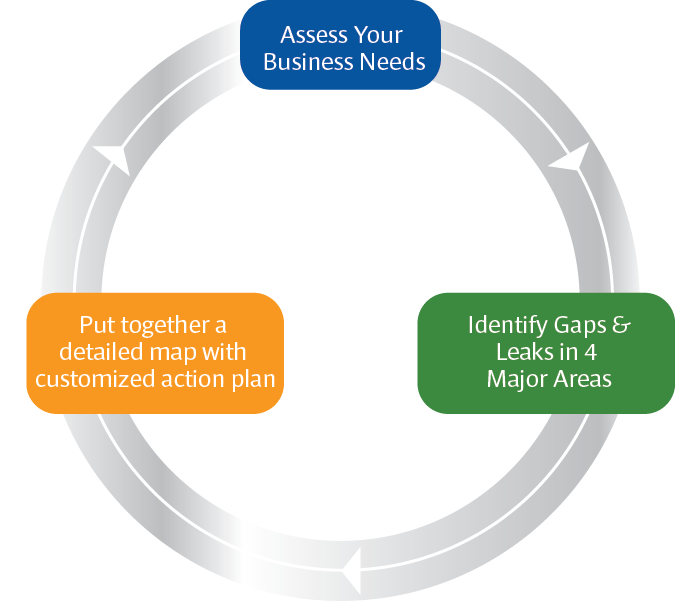 Let's Review Your Business and Come up with a plan!
The purpose of a strategy session is to assess your individual and
company's needs so that we can come up with a customized action plan
to move your business forward.
We document your goals, focusing on 4 major areas. We go through, in
detail, how your business operates currently and identify where the holes
are. We then figure out how we can fill those holes with either automation
or VA support. Based on your goals we put together a map with action
steps and timelines of getting you there.
The 4 major areas that we tackle are:
Operations
Get clarity on what's important to your overall operations and how you serve your client in the best possible way while being efficient with automation and team.
Marketing
Dissect what's working in your marketing and what's not and why. Get perspective on where you can effectively spend your time and money by identifying systems needed to keep your marketing consistent.
Finance
Cash flow consistency is critical to any business's success. Identify gaps in invoicing and finance management then establish processes and systems to fill those gaps.
Sales
Create a script based on your expertise for conversion improvement and systematize the on boarding process to give the best use of time and resources while creating that "WOW" factor for your new client.
"I was amazed at how much I was doing manually when onboarding a new client, where by adding some automation software with a cost of under $50 per month it freed up almost 6 hours of my time in just the first month."
"The clarifying questions that Bibi went through with me as we were going through one of my group programs made me really see that I could offer so much more value, provide more immediate support to my clients in that program and charge more because of it. She also helped me in implementing a good CRM system where those clients would have recurring billing and automated emails (that I was sending myself every week) with homework and reminders which freed up a ton of my time."
"I made back 5x what I spent on a strategy session  within the first 3 weeks after we implemented a new streamlined and automated process for getting my invoicing out. Now her team handles all my bookkeeping and I'm not months behind in invoicing anymore."
Schedule Your Session Today
Are you ready to streamline your business, make more money, and take it to the next level?
Want more support?
We offer bundle discounts and 1/2 and full day options to dive deeper and develop solid strategy for all your business roadblocks and challenges.

To purchase a package simply click the SCHEDULE NOW button above
and adjust the quantity to the number of sessions you would like to purchase and click "update".
Reach out to us at service@buyingtimellc.com if you'd like to purchase a 1/2 or full day session or if you have any questions.