This is my first blog I am writing that is not about VIDEO, and it feels weird! But these are three tips I have found myself talking to about regularly. And I hope they can help you too!
1. How to find passwords stored on your computer.
Have you logged into Facebook one time, saved your password, and then forgotten it? Then you need this tip! This trick has saved my clients hours of digging through old papers and trying out different passwords. 

Step 1: In the upper right-hand corner, you will see vertical ellipses. Click this to open a menu. 
Step 2: Click "Settings," it is the second to last option.
Step 3: A new tab with your Google Chrome Settings will open.
Step 4: Under the title "Autofill" click "Passwords"
Step 5: Scroll down to find the website you want the login credentials for. They are listed in alphabetical order of the website name. 
Step 6: The password is hidden behind dots. Click the eye icon to the right and type in the password to your computer to reveal the password. 
Step 7: You now have your username and password for all of the logins you saved on your browser!
*This tip is also available on all other browsers, but the way to access the setting menu is different.
2. Oh NO! I closed an important tab or window!!
I learned this trick from a coworker who does this as much as I do.
I have accidentally closed a whole window or a single tab that I need and I don't want to go through all the steps to get back to that page. Don't panic, Google Chrome has you covered!

Step 1: If you closed just a tab, right-click on the top bar where your tabs are listed. I suggest clicking by the + sign in the upper right-hand corner.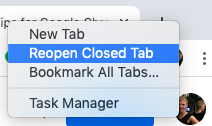 Step 2:  Click "Reopen Closed Tab"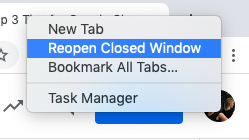 *If you closed a window, you follow the same tips, but this time, the option will say "Reopen Closed Window." 
3. Take advantage of your Google Chrome Extensions!!
My favorite is the ColorPick Eyedropper Google Chrome Extension found here. There have been many times I am talking to a new client and they do not know the colors in their branding guide. Or we are picking new colors for a project they are working on and I need to collect the Hex Codes to pass off to Virtual Assistant Carrie for design work. This color picking eyedropper is a miracle! It takes me seconds to click the icon in the upper right-hand corner and click on the color I want the code for. 
Bonus:
Google Chrome Extensions that I use in my private life are the ones that allow my nieces or friends and I to watch Netflix and Disney+ together! This is great since we all live far from each other. 
I hope these tips can help you! Email me at service@buyingtimellc.com
All the best,
Virtual Assistant Astrid