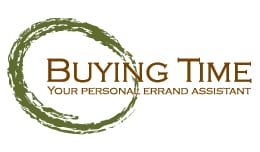 I'm so excited I can hardly contain myself. We have some big changes happening at Buying Time, LLC and finally ready to share them (some of them) with you!
First you might have already noticed our new look up there, a bolder cleaner logo. As we embark on our 5th year of being in business Tandie and I thought that it was appropriate to reflect who we have become as a business.
The thing I'm most excited about sharing with you all is our new website, please check it out www.buyingtimellc.com there are some great specials we have running right now. Christian Anthony at Champ Creative did an incredible job with every aspect of our new website. He was so patient and thorough during the stages of design, development and implementation (I guess that's pretty much the entire process). Ultimately, he captured everything we wanted to convey and put it together in the perfect package for this stage of our business. We welcome your feedback!
Throughout this year of celebration we will be posting specials for everyone to take advantage of and will be planning an appreciation event on 5/5/2011. We will also be launching our new line, Buying Time For Your Life, organizing products. The first module Buying Time For Your Office is available for purchase on our website now.
I am truly excited to see where the next 5 years will lead and am hoping that you will be there to experience the journey with us. When we started Buying Time, LLC we were excited about working for ourselves and making a little money. I never anticipated the level of joy and satisfaction I would gain from helping people with my business. We are committed to being of service to our customers and our community, and look forward to doing so for a very long time.
Here's to another 5 years!