Appreciating Our Differences and Showing it to the World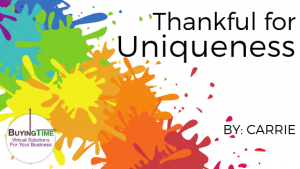 Ah, November, the month of being thankful. Today, I am thankful for uniqueness. Variety is the spice of life, after all. As a Graphic Designer at Buying Time, my favorite part is the diversity of the work I do because of the range of clients that we work with. We are lucky to work with people from all over the place who have such different professions, that none of us can ever get bored! People from all industries come to us for a variety of needs and I'm on standby for anything thrown my way.
Each of you are unique and that one-of-a-kind brand that you have needs to be shown to the world. Did that Social Media post yesterday show what your brand is? Did that presentation last week represent you? What about the flyer or invitation that you did for an upcoming event, did it express who you are?
A branding guide will help you and everyone who works for you to stay within the parameters of how you want to be seen in the print and digital worlds. This guide will have your logo, colors and fonts.
Once that branding guide is in place, everything that you put out there should align with these colors, fonts and style. These may not seem important, but consistency is key. Just think of the brand that identifies itself with sleek advertising and a simple apple with a bite out of it. We know what brand that is. How about a company that uses a red target and happy, cheerful ads? Yep, we know them too.
Love your brand, stay consistent and flaunt it.
Don't have a branding guide yet? Or maybe you don't love the one that you do have? Let's work together to get a style that you love and that the world would love to see too!