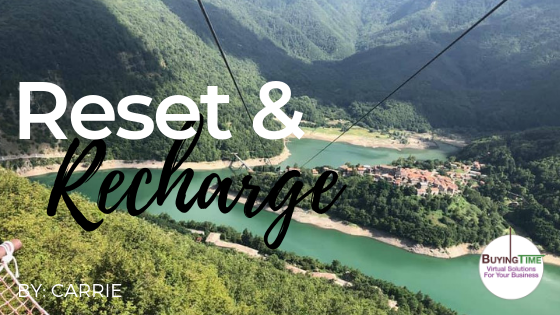 3 weeks off work has allowed me to reset and recharge. I spent the time travelling with 20 family members, 7 of which were kids and 3 of which I am responsible for, so relaxing was not in the cards. Actually, I didn't mind the unrelaxing time. We got to travel and be adventurous. Our days were filled with exploring small villages in Tuscany, zip lining over lakes, getting lost in castles and ending the day with vino, games and dancing. I was able to feel like the real me again. My youngest is 3 years old, so being adventurous has kind of been on hold for about 11 years (when I was pregnant with my first). Now, we can include the kids on the adventures and we all love it… yes, my 3 year old got to partake in the mile long zip line over a lake. We are a family of adrenaline junkies and it feels so good to be me again.
My point is that vacation time does not have to be relaxation. Vacation does not have to be an adventure. Time away needs to be what each of us needs it to be. Whatever it takes to reset and recharge so that we come back feeling better than before we left. 
Kids start school in a week and I'm back to helping my lovely clients with their graphic design needs. We came back to a construction-zone of a house due to a burst pipe, major jet lag and a million things to catch up on and prep for school. Normally, I would be a little stressed. After my reset and recharge I feel like I've got it handled and that life is too short not to enjoy it. It's okay if my house currently looks like a rug showroom (where the floor once was) and that my kids may be missing a few items from their school supply list. Life will go on, I will continue to do the job I love and will always have the memories of my family in Tuscany. 
We all need a break from work, from the daily grind, to do what makes us push that reset button. 
Reset, Recharged and Ready for whatever life throws our way.