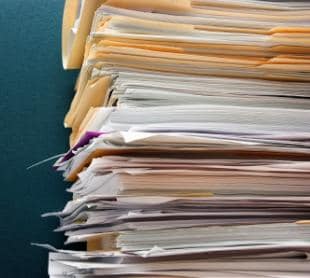 Ever walk into your office and wonder how all that paper and stuff got there? Remember your first office?  The stapler was placed just so, the paperclips were organized by color, and the picture of your golden retriever was front and center. You're not alone, and no, aliens didn't leave those piles of paper behind, though it may feel like they appeared out of nowhere. Now you're afraid to see what lies at the bottom of that pile.
Some of you have created a piling system, each pile with its specific purpose. You have convinced yourself that you know where everything is within that pile and could find it in seconds. Reality is that whether it's your mind or your environment, clutter equals chaos, and there is no system to your clutter.
Creating a filing system does not need to be complicated. For my business filing I have 12 hanging file folders, one for each month. Within each month I have 4 colored folders; receivables (will probably be obsolete in 2012); payables (invoices I pay, charitable donations etc.); banking (Deposit receipts, merchant processing statements etc.); miscellaneous (everything else). That's it!
With recent scanning technology there's very little need for paper. There are on line faxing systems like Efax, or phone systems like Grasshopper, that also have fax options.
The trepidation we have in sentencing paper to the almighty shredder need not rule us. Get an use-at-home home shredder, or opt for a UPS Store that shreds a pound of paper for $5.
Following a simple 15 minute formula to a pile-free office system will get you organized, focused, and on your way to a harmonious and productive environment:
15 minutes a DAY of sorting
15 minutes a WEEK of shredding or scanning
15 minutes every 2 WEEKS of filing
15 minutes a MONTH of purging
Aside from starting your own local chapter of Pilers Anonymous, get support, especially the technology kind: a, shredder in your office, a printer with scanning capabilities, an on line paper/file management system (i.e.; Dropbox), an on line backup system (i.e.; Carbonite) and an on line paperless faxing system.
Focus on continually asking yourself, "Why, and for what purpose?" Most importantly, recognizing when you might have a problem; what-if-I-need-it-someday-itis.