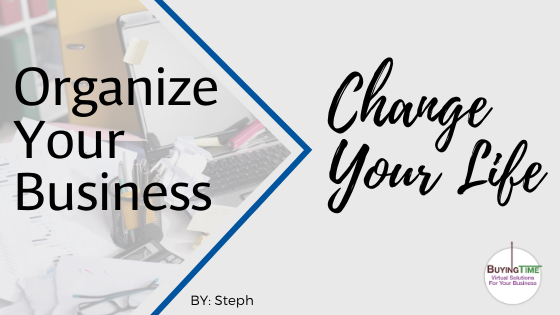 One of the quickest ways to let overwhelm creep in on you when it comes to your business is to let organization go out the window. Being organized and having a proper system in place to keep track of your to-do's will bring clarity for your day, week, month, etc., allow you to manage what your employees have on their plates (whether in-person or virtual), and, in turn, give you back control of your business. The easiest way to do this is to use one of the many task and project management software on the market today.
It's easy to let your workday or week get overrun if you aren't clear about what exactly needs to be done.
You may also experience many instances of missed deadlines for clients or, worse yet, having your own internal business tasks get pushed to the back-burner. Having one place where everything you need to do lives allows you to get a clear picture of your tasks which in turn allows you to prioritize. Here at Buying Time we use Teamwork (and love it) and each day I can go in to see all the tasks that are coming due and I can prioritize my day in a way that is going to ensure that I'm getting everything that needs to be done, done. It also lets me take a look at the coming weeks and give clients realistic turnaround times for projects or tasks. 
In the same way I utilize Teamwork for my personal workload, I'm also able to utilize it to manage our team. Being able to see, at a glance, who has the space to take on a new project when assigning it and being able to check in on the status of projects or tasks to ensure that things are on track takes the guesswork out of the entire process. There is no quicker way to  lose control of your business than to put yourself in a position where you do not know what your team is doing. And if you have management in place, investing in a tool like Teamwork is going to provide them with the ability to effectively manage your employees, contractors, etc. and set everyone up for success.
All of this lends itself to maintaining control. Not to be confused with micromanaging or being a helicopter boss (no one likes a boss that hovers), having control is merely putting the proper systems and tools in place so that you are never out of the loop and you're never guessing what needs to be done.
The beautiful thing is that you don't need to know it all off the top of your head.
Finding yourself in a situation where you need to know what next week currently looks like for you or your team and being able to log in and get a quick update on that puts the reigns in your hands. It ensures that things are getting done when they need to, communication, both internally and externally, is streamlined and happening when it needs to, and everyone is keeping deadlines on projects, big and small. (Including those internal tasks that seem to fall to the wayside.)
There is so much to be said about utilizing Teamwork, Asana, or Trello (just to name a few). The benefits are endless and go far beyond what's been laid out here. If you aren't already utilizing one of these programs (or something like it) explore your options and invest into implementing a solid system that is going to work for you, your business, and your team and invite the clarity that comes from your newly organized business to give you peace in your work week knowing you're doing everything that needs to be done.
Written By: COO Stephanie