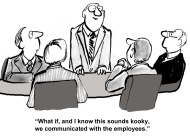 Manage Projects. Manage Teams.
By Bibi Goldstein
Do you remember how popular AOL instant message and chat rooms were before the internet blew up into what it is today and before cellphone texting came out? We would get on our computers, dial into AOL and instantly we were connected to our "buddies." It was awesome!
It's back folks! It's back in a new form and we call them Hangouts, Group Chat, or Circles. There are many companies that offer this service, but Google Hangouts is my favorite!
And it's no longer for just our friends and family, it's now an important attribute for our business.
Ever wish you could just have a short meeting, say what you need to say and go back to what you were doing? Group chat is the answer! It will allow you to:
Manage Teams. Group conversations or group chatting creates team accountability and time management.

Manage projects. If multiple people are working on the same project and each piece relates to the next piece, you can manage the process through a group chat.

Save Time. You can get in a chat at any time and respond whenever you can.

Multitask. You can have multiple chats with multiple groups or even just one on one conversations.

Stay connected. Going on a business trip or vacation and want to stay in the loop, have your team communicate everything via a team group chat. You'll be instantly informed.

Saves you money. You won't need as many phone lines or webinars for team meetings. With Google hangouts, you can video chat, share your screen and even make calls using your computer.
Times have changed and we have to change with the time. It's working for me and I know it will work for you.