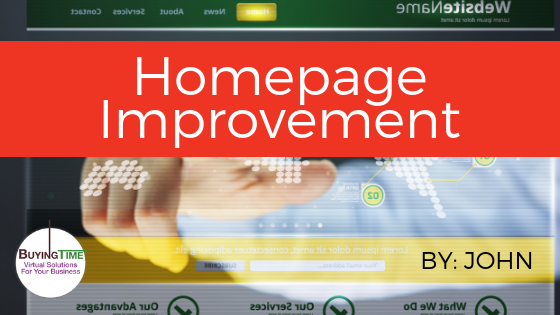 3 Ways to Capture Attention on Your Website
Your websites home page is the face of your business in the online world. When your visitors come to your site you must capture their attention, whilst encouraging them to keep viewing your website. A bit like a brick and mortar storefront. If you are a  new business you have to catch the eyes of the public as they walk past.

But how do you do that? Here are 3 tips on how to capture your visitors attention and get them taking action when they arrive at your home page:

1. Get them to take action in the "Hero" section – When you create your home page, you have to choose wisely what you have in the Hero section of your page. The "Hero" section is referred to as the section of the page visitors will see when they first arrive without scrolling. You have to have a clear call to action in this section for them to take. Do not give them too many options or they could end up confused and may leave your site within seconds.

2. Keep it simple – A lot of people try to tell the whole entire story and show every product in their home page or in a single section. This can be a problem as it can lead to a very bloated page with lots of text and lots of options for the visitor to choose from.

Instead, break the page up into sections, allow for space between each section as well. You have to close off a section before jumping to another. Use headlines and sub-headlines to give clear statements to the visitor, consider using more graphics and videos as well. Most people are only looking for "what they need to know" and nothing else. By using headlines and graphics you are giving people who skim read your website, the opportunity to understand what is available to them and how they can take action.

3. Ribbon Banner & Automatic Pop-up box – This is a great one, as people scroll down your homepage it is great to catch their attention with something that pops. This can be achieved by using a ribbon banner or an automatic pop-up with a clear call to action. Normally a lead magnet such as a free webinar or an ebook works a treat as they get instant value in exchange for some contact information which you can then use to follow up with them.

These are just 3 of many great ways to improve the engagement rate of your home page. Be sure to split test the different elements you add to your page to determine what is working and what isn't.

If you need help setting any of the above up on your homepage – we are here to help!