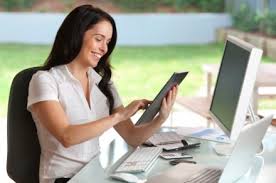 Delegating and technology are two things that most of us business owners are afraid of. It's tough to let go of doing things the way we've always done them. Getting support either through hiring an assistant or using technology to be more productive with your time can be so liberating. The trick is to find the right solution that is the most efficient and fits in your budget.
Here are two key areas I recommend to get you started:
Accounting:
Whether you want to go old school and use a spreadsheet to manage your accounting needs or use systems that manage it for you there are several options.
Microsoft Excel, Smartsheet: If you decide you want to use a good old fashioned spreadsheet find a template that will still give you the information you need to manage your business quickly. Quicken, Quickbooks, Freshbooks: For most business owners Quickbooks (online or desktop) or Freshbooks would be ideal. Many of these can now link directly to your bank and/or credit cards online and automatically download your transactions.
Scheduling/Calendar Management:
Having an online calendar that can be shared is crucial when working with multiple people. In addition to allowing for more efficiencies in determining the best times to meet it can also provide a way for your staff and even your family to know your availability if they need to schedule time with you. There are also scheduling systems that allow for your customers to book appointment times directly where you have pre-determined your availability. Google Calendar, Calendly, and Schedulicity are just a few.
Get out from around your fear and feel the joy of having things get done without you having to do every little step. Technology really is your friend! Sure there are going to be many times that it will make you want to scream. Most people think that once you delegate a task you can forget about it until something goes awry, that's where they're wrong. Manage what you delegate to technology by having checks and balances that what you needed the technology for is still happening and necessary.  If your needs have changed it might require you to change the technology you're using. Never delegate to either human or machine and assume you'll never have to worry about that task again. You're still the business owner and you still need to make sure the current overall needs of your business are being met.