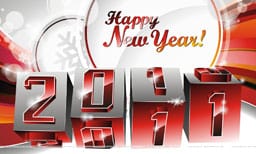 As we all look forward to upcoming celebrations, taking time off and spending time with family and friends, this time of year also reminds us that there are bright new shiny beginnings on the horizon. Many of us will make the standard resolutions in the new year; to lose weight, spend more time with our families, be more organized etc.
What are your resolutions for 2011?
From the day after Thanksgiving through the end of January is my absolute favorite time of year. Party because I enjoy football season so much, but also, for whatever reason my optimistic, glass half full side comes out. I truly find that people are generally friendlier this time of year and more willing to share their time and knowledge. It's like everyone slows down and takes a look around them for the first time all year.
Every year I feel like I can wipe the whiteboard clean and start all over in many areas especially on myself. Or I look at this time of year to start new projects and implement new systems for my business and personal life.
So it only appropriate that we use the new year as a platform to embark on the next chapter of Buying Time.
In January of 2011, Tandie and I will be starting our 5th year of Buying Time. Over six years ago when we first began talking about starting the company we really focused on this being an errand running business, something for households and small businesses. Now we have four departments of Personal Assistance, Virtual Assistance, Errand Running and Organizing!
As we embark on our 5th year we will start with a new look, new product offerings and expanding service areas. Our new website (designed by featured resource Champ Creative) will be more aligned with representing all the services we offer and will feature specials we will offer to new and existing customers. Our new website will be live January 5, 2011. We are excited about our journey and to have all of you there with us.
Cheers to an incredible 2011!!!