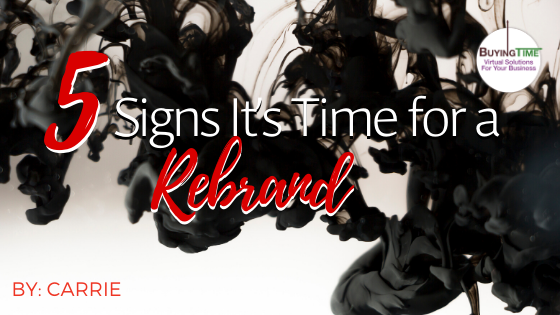 5 Signs It's Time for a Rebrand
You are in the thick of it, growing your business while trying to juggle a million other things. Sometimes thinking of a rebrand gets left to the wayside, or does it fall by the wayside? Anyway, it's not on your radar. Rebranding may be an oversight because there are always so many other things to do! Here are 5 warning signs that it is time for a rebrand:
1. You don't love your branding. 
You work so hard for your company that you've created, but the branding doesn't really reflect you and what you do. You need to love it so that you can flaunt it.
2. Your brand hasn't grown with you.
Perhaps you did your own logo and branding when you very first started out. It happens and it works, until it doesn't. Even if you want to keep your branding somewhat similar, make sure the quality is there and that you have logo files that can be used for anything from websites to billboards.
3. Your branding doesn't reflect your target audience.
Has your target audience changed? Or maybe your branding never really reflected the right audience anyway? Are you using script font and pink, but you would like to include the male audience too? Are you using comic sans, but actually are trying to target corporate or other big business?
4. Your brand hasn't been updated in quite a while.
We have to stay on top of looking like we are not out-dated. Just like clothes and hairstyles, it is obvious when we haven't updated in 10 years. On average, big brands update every 7 years and less for small businesses because of any of the reasons above.
5. You would love a rebrand, but not sure where to start.
It may be tempting to go into PowerPoint and make your own logo or have your son
(daughter, nephew, cousin, enter any relative here) do it for you. But, is that their thing?
Here at Buying Time, we have a graphic designer on staff – that's me! I start with a Zoom Video Conference to discuss what you like, what you don't, create a mood board, pick your colors, fonts, the whole thing and at the fraction of the cost of a huge design firm. 
If any of these ring a bell, comment here or email me at service@buyingtimellc.com and we can set something up.
Your Graphic Designer within reach,
Carrie