Going from 0-to-100s to -1000s of customers, and only 24 hours in a day. Fasten your seat belt.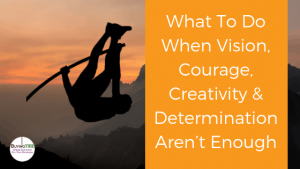 A steady stream of marathoners encounter a fallen branch on a steep winding incline and exhaust themselves to run faster to jump over it.  The entrepreneur picks it up, runs downhill against the pack and then uses it to pole vault up to the next higher pass ahead of the rest. Ingenuity, courage, uncommon vision, and the ability to seize an opportunity others wouldn't recognize even if they tripped over it…
Entrepreneurs seem to be born with a truly visionary gift.  Creativity and solutions abound. You have vision, creativity, determination, and you are steadily advancing! …but we all know that there are only so many hours in a day, limited time, limited budget–if change is the only thing that stays constant then one could similarly say about limits that the number of limits are seemingly limitless.
So how do you run even faster, and springboard even higher to take your business to THAT next level?
…Hop on a plane, you say? Haha. Maybe so!  That's the beauty of thinking entrepreneurially.  And thankfully, we don't have to invent the plane. So where's my boarding pass?
Let's use leverage to scale up.  Like a polevaluter who can jump to unimaginable heights with a stick, there are some readily accessible tools that can give us the leverage we can use to leap to that next level.
We want to open our Buying Time toolkit to share some of the tools that can give everybody some much needed leverage through automation, streamlining our lives, giving us more impact, more room to grow, AND more time to relax.
Here's 4 tools you can use to scale up seamlessly.
Automate everything to run your online biz!
Infusionsoft – These days, the logistics and expenses of setting up one bricks & mortar enterprise after another have long since been erased to allow you to serve a global market.  But if you don't automate, you'll spend all day in the back office.
With Infusionsoft, you can set it and forget it…so you can focus on doing what you do best.  Create your web presence with the backend built-in with Infusionsoft's powerful and flexible sales funnels, CRM, automatic payment solutions, marketing, outreach and online product delivery.  It's a one-stop shop.
Need a hand getting started?  We're here to help, as certified Infusionsoft trainers, our pro team is ready to help you set up your biz.
Scale your How To's!
Jing – Makes easy screencapture vids, and is a great way to create training videos instead of having to draft laborious written operating procedures, or having to repeatedly train every new hire on the same procedures–or demo every new customer.  Automate your How To's and stay scalable.
Let google reliably handles the basics.
G-Suite – seamlessly integrate your site and email with Google's familiar gmail, calendar and more. In an ever-changing tech landscape, keep step by having Google cost-effectively handle these essentials business functions for you like clockwork.
Simplify your meetings!
Zoom – remote meetings made easy.  Call in from any device anywhere, schedule meetings seamlessly, record meetings automatically for easy review–just in case you missed one crucial detail in your notes, …and you can even add a snazzy backdrop …haven't tried that last feature, but why not call in from the Eiffel Tower or snorkeling from your couch?  Give your meeting attendees something to smile about.
These are some of the tools we use to give our clients more freedom, more money, more peace of mind, and more impact. Don't trudge up mountain passes when your boarding pass is ready. Any questions, your business' flight crew awaits at Buying Time.
Cheers!