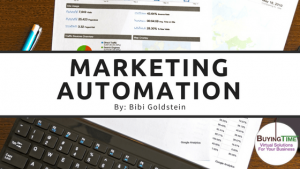 What is marketing automation?
It is technology that allows businesses to automate and streamline marketing functions so they can use their resources in a more efficient manner and increase their revenue in the process.
Marketing automation software like Infusionsoft can support marketing processes including segmentation, relationship marketing, up-selling, lead generation, nurturing and scoring.
This automation software allows business owners to capture leads, create campaigns that can follow up with those leads via email, phone or text. Then provide the shopping cart to process their orders and up-sell them to the next product.
It also keeps their client database organized through segmentation or tagging to market to them based on their interactive behavior.
What do they read?
What do they click on?
What do they buy?
The ability for small businesses who may not have the manpower to follow up immediately is a critical solution that Infusionsoft provides. If most sales are lost in the follow up, why wouldn't every business want to have a system that allows them to communicate with their clients or potential clients based on their actions?



Creating marketing campaigns that can be triggered by the contacts' actions then continue marketing to them for days, weeks and months to come can generate additional revenues without having to add more work. Yes, initially creating those campaigns will take time but once they are done they will continue to work with very little effort. By occasionally reviewing the campaigns and making sure that the marketing message is still relevant and upgrading that content small businesses can keep their marketing funnel flowing.
There are so many more components to marketing automation then email marketing campaigns, like landing pages, lead management and scoring, marketing analytics and social media marketing. If businesses utilize automation for their marketing tasks and focus on their strategy and message the success they can achieve is limitless.