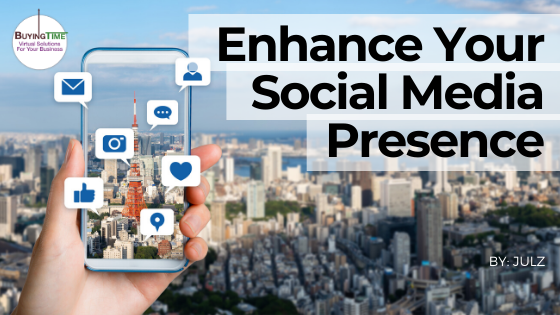 Hey guys, it's V.A. Julz here with this week's Buying Time bulletin. If you are like me, you use various social media channels on a daily basis. With algorithms changing all the time you really need to have a plan of action when it comes to your brand's presence on social media.
Here are some best-practice tips and tricks that you should incorporate into your social routine to ensure your social media presence is getting noticed.
Social listening: Measuring in-depth analytics, keyword searching, sentiment analysis, hashtag tracking, and influencer data are just some of the ways to gauge your audience which allows you to adjust your strategies and tackle areas where you are having problems with. In case you missed V.A. Chris's blog on this very topic, you can read more here.
Micro-influencers:

Influencers have carved out a space for themselves as a vital part of social media. They act as a middleman between brands and the average internet user. Reach out to those smaller micro-influencers with under ten thousand followers who are valued for their ability to reach niche demographics that are similar to your brand.

Streaming video: This past month on Buying Time's social media we talked about facing our fears and video was the one that most business owners admitted to not wanting to be on camera themselves. Streaming video is raw and unfiltered. It gives the viewer a sense of being closer to the people recording it. It is a GREAT way to let the world know about you and what you stand for.
Direct messaging [DM]:

Use DMs (PM for all of my Facebook fans) to share information about events, new products, or give out special discount codes. These small personal types of things will make your followers feel more appreciated, as you are paying individual attention to them. Another good use of DMs is resolving issues with customers. It shows you are invested in making it right.
Keep it real!
Never forget that quality over quantity is number 1 in social media. The key is getting your audience to engage, interact with you all while driving traffic to your marketing funnels and getting your target audience to convert.
I hope these tips help you with more engaging posts on social media, and if you ever need help with creating just the right social campaign for your brand Buying Time is ready to step in and help out.
V.A. Julz