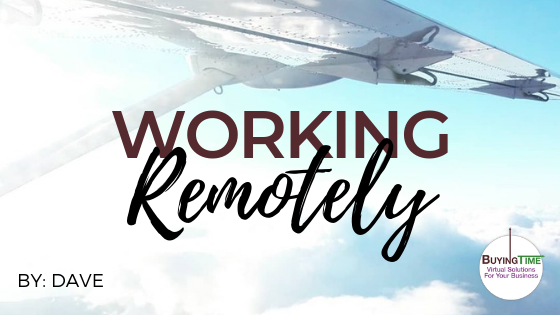 Remote working, what does it mean, how do you do it, and why? The first thing to understand about remote work is that it means something different for each person working.
What does it mean?
Technically speaking, remote working is defined by doing your work from home and communicating with a company by email and telephone/video conferencing: doing your job outside of a traditional office or the dreaded cubicle.
For me, working remotely means if I have access to the internet, I am able to do my consulting from just about anywhere in the world (home included). To me, remote working is freedom from the chains of a traditional job that requires you to keep a seat warm.
How do you do it?
Remote working takes a shift in your mindset. You must have a certain personality, and, at times, write your own job description. You also need a discipline to keep up with your tasks and meet your deadlines. Yes, remote working does not free you of deadlines. Deadlines become more important when we work remotely.
Alright, you have the mindset shift and confidence to be your own boss. Next comes getting the job or creating the job. I truly believe anyone who is going into remote work, is now, or will become, an entrepreneur. You are forging a path few travel or understand.
For me, remote working started with networking and landing a position with a startup virtual assistant company in LA: Buying Time, LLC. Once I was able to understand my role and see the value in working remotely and the value this also brought to the company, it took off.
After you find or negotiate a remote working job, then the confidence that comes with it will allow you to grow and become a more confident, calculated risk-taker. These skills will help you in your remote work with clients and tasks as well as your ability to focus on your entrepreneurial ideas.
Why?
I must say, remote working is full of benefits. More often than not, people I talk to go right into what they perceive as a reason to NOT work remotely.
"Is this even a real job?"
"I'm sure it is hard to focus!"
"You don't have anyone to talk to!"
Shocker: none of the above is true. Remember the mindset shift I was talking about? Ding, ding! Here it is.
Here are some major benefits
Yes, it is a real job that DOES NOT control my day-to-day. I make my own schedule.
It's only hard to focus if you don't keep your deadlines.
I am one of 11 team members all over the world and we have retreats once a year!
Yes, I can work in my PJ's and also be professional for my video meetings.
My slogan is, "living life and working it".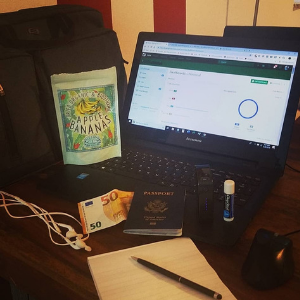 Live by and use your calendar (you won't remember)
Laptop
Laser mouse (I use one with a cord. No need for batteries,
and sometimes wireless is not practical)
Portable device charger
Headphones
Notepad
Pen (mine doubles as a phone stylus)
Professional laptop bag (look for a versatile style that can
go from briefcase carry, to backpack)
A healthy snack (anything can happen when traveling or
that one meeting might run over)
Your passport
Water bottle
Local currency
Chapstick (airplane air and new climates are not so forgiving)
Working remotely allows for the freedom in life to do what you want. Work from home, the coffee shop, across the country and across the world.
Free to move and ready to focus.
BY: VA Dave