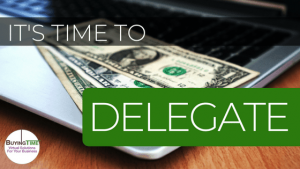 Delegating is a MUST to get more revenue from your business. 
Business owners get stuck on the idea of hiring someone. It is difficult because realistically you are looking for a clone of you (and cloning is not possible yet 😉).  
Whether it is a small business, self employed person or a large corporation, owners and other people in senior level positions do not see the benefit of delegating their workload as they believe it is just easier if they do it themselves.  
They think it will take too long to train someone to do it and then they have to pay them a full salary and worry that they may not have enough work for their new employee and it could cost too much money. 
But this is not the case anymore. People are not seeing what services are available to them and how it can MAKE THEM MORE MONEY! 
Firstly, I would like to talk about why things are different now.  
You now have virtual assistants who are there for you on-demand, but without the full-time salary!  
How does it work? Basically you pay ONLY for the hours you use them for – this saves a lot of money in hiring full-time employees when there may not be enough work!  
Now when Virtual Assistant services first came around, you used to only work with one person and when they are not available or they take a holiday, you won't be able to get things done when you really need them! For example, if you were launching a product and wanted to maximize sales for the Christmas period, if the Virtual Assistant or your *new* full-time employee was on holiday, you would not have been able to do it. And with a lot of freelance VA's that is still the case – but not with us!  
Here at Buying Time, we have a team of Virtual Assistant's so if one is on holiday, we still have the rest of the team to help you with your business! 
Now how can delegating get more revenue out of your business? 
Well, you would already be saving money you would have spent on a full-time employee when it may not be necessary, which would already bank you some more revenue from your business.  
But another important reason for delegating tasks, is so you do not spend hours of your own time doing them yourself.  
You are the most valuable person in your business.  
For you who own small businesses, you are the main salesperson – so if you do not have to do the tasks you could be delegating, then you could be speaking and on-boarding more clients into your business which will in return, give you more sales and revenue. 
Another reason you would gain more revenue is because you could then delegate the tasks you would normally have to do yourself for the new clients you bring in meaning you would have even more time to sell your services to prospects! 
Here at Buying Time, we understand that businesses grow and need a reliable VA service to grow with them. That's why we are not just 1 person. We are a team of people skilled in different areas of business to help you reach new heights in your business and gain more revenue. We scale with your business and we thrive on our clients success! 
Book your free consultation with a member of our team today to find out how we can help your business.