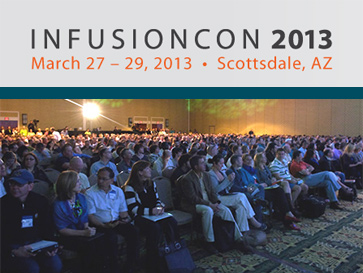 I just returned from InfusionCon 2013 and my head has been spinning from all the great things I learned and experienced. I met some incredible new folks and had the opportunity to connect with some of my favorite people.
For those who may be wondering, InfusionCon is a conference that Infusionsoft puts on annually with great keynote speakers and specific content training in various areas of the software or that affect the use of the software. Daymond John from ABC's Shark Tank was one of the keynotes, he was incredibly engaging and motivating when telling his "rags to riches" story.
As an Infusionsoft Certified Consultant (ICC) it was great to learn about some of the application integrations that are now available. I think I spent more time at the different app booths than anywhere; it was fascinating to me what these apps can do! These are a couple of my favorite ones:
Plus This by Sixth Division www.plusthis.com – they have multiple Infusionsoft add-ons with everything from customized thank you pages to helping you improve the reporting you need in your marketing.
AppointmentCore by AutomationCore https://www.appointmentcore.com/ – I signed up for this as soon as I saw it. I used to use TimeTrade, but switched over when I learned I could set up automated campaigns and actions directly with Infusionsoft.
I'll keep you all posted on how these and GroSocial (a new acquisition by Infusionsoft) goes for me and my clients in the future.